When we arrived in Franconia Notch State Park for a mid-November hiking trip, we were shocked at the amount of snow New Hampshire already had accumulated. Living 150km North of New Hampshire, we thought we had a pretty good idea what to expect for the weather. Though we kept a watch on the summit camera, and checked the forecast daily prior to departing we were still caught off guard. And so it goes for shoulder season hiking, you have more considerations, more preparations, and more gear to take, which means more can go wrong. Here is a review of our experiences with the Franconia Ridge Loop, and what I have learned about shoulder season hiking for both humans and our four-legged family member, Stewart the wheaten terrier.
Franconia Ridge Loop: The Specs
Distance: 8 mi (12.9 km)
Peeks: Mount Lafayette 5260 feet (1603 m)
Mount Lincoln 5089 feet (1551 m)
Little Haystack Mountain 4840 feet (1475m)
Total elevation gain: 3937 feet (1200 m)
Suggested Time: 5-8 hours. This took Will and I 5 hours and 45 minutes to hike in icy and snowy conditions. We would consider ourselves faster than average hikers. We were prepared for the snowy conditions added approximately 30-45 minutes to our total hiking time.
Difficulty: Hard.
The Review
Anywhere you look you will find this trek rated very highly and I cannot say enough amazing things about it. Ranked #1 in New Hampshire and top 20 in North America, this trek offers spectacular views of the White Mountains along the 1.6 mile (2.6 km) ridge traverse within a beautiful alpine zone. This is easily my favourite Alpine trek thus far in my travels. Between the continuous falls on the south end of the loop, the ruggedness or the ridge, and the spectacular 360 degree views from the top, you are going to be hard pressed to beat the scenery. However, this is not an easy walk. I would not even considerate it an intermediate level trek. When reading review sites it can be difficult to align your expectations of a hike as the writer doesn't often include their own fitness level. Will and I are fit people as well as experienced hikers, and I found this trail quite hard. What makes this trail so challenging is there are minimal switch backs, meaning it is pretty much a straight up climb, a deceivingly hilly traverse, and a straight down decent. It's a long slog on the way up, and hard on the knees on the way down. We met several people struggling along the way who lacked the necessary fitness to be doing the loop, and to be quite honest, were severely underprepared. Do your research, if it doesn't feel within your fitness level or comfort zone, don't go. Helicopter rescues are expensive.
Weather Reports: Weather in this region can change quickly as three storm tracks converge at the summit of Mount Washington. In fact, for 62 years Mount Washington held the record for the fastest wind gusts ever recorded at 231 mi/hour (371km/hour). Storms can emerge out of nowhere here, so always check the weather reports before you begin. You can get the most up to date reports here including summit conditions:
https://www.mountwashington.org/experience-the-weather/mount-washington-weather.aspx
The Franconian ridge is extremely exposed. When we were there winds were up to 50mi/80km per hour, dropping the temperature at the ridge to a bone chilling -22 degrees Fahrenheit (-30 degrees Celsius). Winds make it not only cold but extremely dangerous on the ridge as the drop offs can be quite sudden and the path is reasonably narrow, making it a concern in high winds. Do yourself a solid, Check the weather in the morning before you plan to go out. If it doesn't feel safe, don't go.
This is exactly what we did. We learned that New Hampshire had a snap of cold weather before we arrived, including some drastic flooding that literally washed away an entire house (check out the video link below).
https://www.youtube.com/watch?v=WG5vHQ3kY0c
The storm had amounted into brought in a cold snap with high winds and a surprising accumulation of snow. So after checking the weather conditions, we decided to delay it a day, shop for some more appropriate alpine gear, and do some shorter and lower altitude hikes in the region.
Direction: We chose to hike up the Falling Waters side and down the Old Bridal Trail side. According to the park rangers, Falling Waters is the steeper trail, and we preferred to climb the steep side rather than descend it. Though I must say, Old Bridal Trail also has quite a steep grade, especially the initial decent off the Mount Lafayette summit. In the end, the direction won't make a huge difference. If cardio isn't your strength, you may find it easier to hike the loop clockwise, ascending Old Bridal Trail, but likely not it won't make it much easier. However, if you are hiking any time other than summer, the Falling Waters side will be way icier (but gorgeous!). Arguably it is easier to climb ice than descend it, though both are tricky and you will benefit from some decent gear. (Check out my next blog post on gear review).
Shoulder Season Hiking Considerations.
Having learned this, and taken a look at the forecast and deciding to delay the ridge hike, we instead took some time to hike below the alpine zone, get to know the terrain, test out the new crampons, and gear up properly before we tackled the ridge the following day (For a review of the Gear we used, click here). To be honest we were blow away with the hiking even at the lower altitudes. This region offers spectacular treks for all ages and abilities. We did in an afternoon a short hike at Arethusa Falls in Crawford Notch State Park. (2.8 mi and 1hr30min return at a reasonably fast hiking speed) moderately difficult hike to an amazingly beautiful waterfall.
We also visited The Basin and walked briefly along Cascade Trail. This is an easy hiking area with lots of options for paths. Lots A bunch of waterfalls on this hike as well. We walked here for about an hour.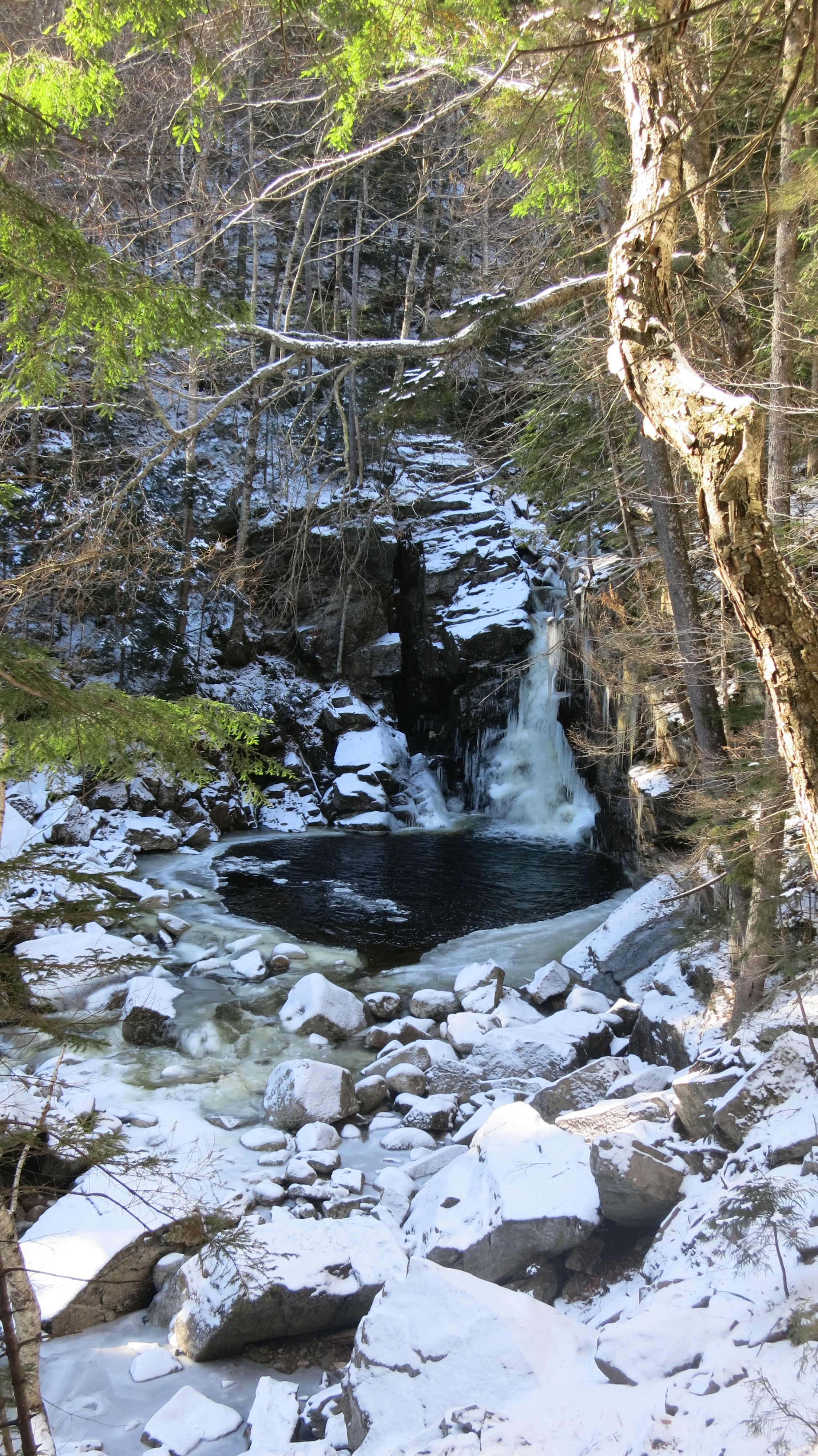 Note: though both these hikes were below the alpine zone and didn't have wind chill as a consideration, they were both still icy and snowy. Easier hikes tend to attract inexperienced hikers, grossly unequipped for conditions. You still need appropriate gear to be doing these hikes, though they were less cold and more sheltered.
We loved hiking here, and even loved driving though New Hampshire. The area is beautiful! The whole shoulder season hiking experience was quite amazing as the varying temperatures, snowy terrain and the far less people made the drive totally worth it.